When the high decoration It looks in a scenario architectural mythical, its elegance and luxury have another look. A tasteful lesson without fissures. It is what has happened with the new collection of the firm Zara Home, presented in an incomparable setting: the mythical Villa Borsani. The parade leave no words.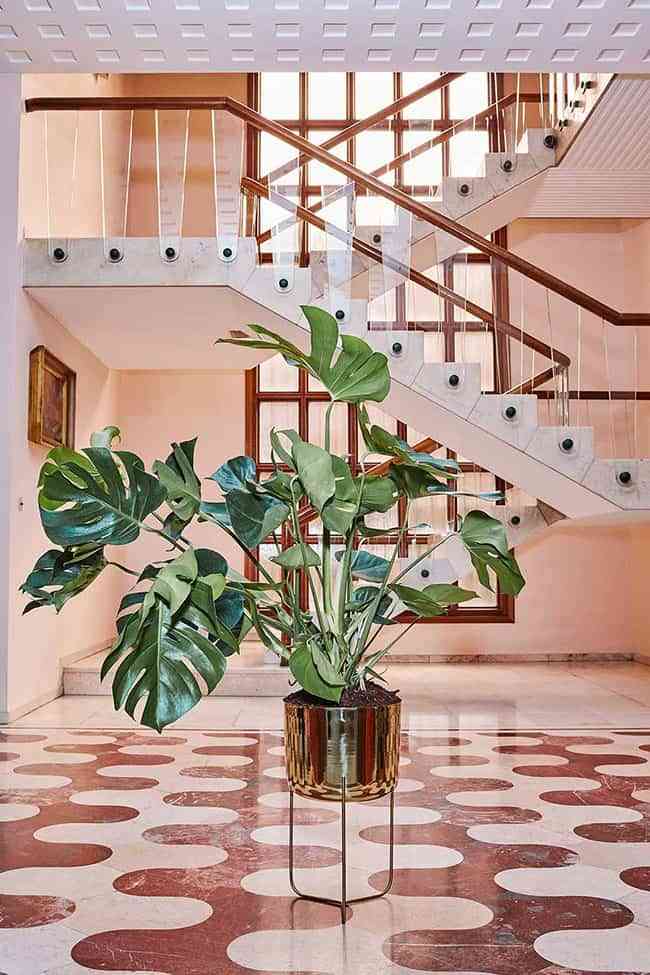 The new collection it is an ode to sophistication and the pleasure of high decoration. These words are defined by the Spanish firm itself, which is firmly committed to it to dress domestic interiors this winter. Although the space where he does it is majestic, his proposals were born to show off in today's homes and in contemporary interior design projects. It is a luxury adaptable to our environments.
High decoration in the purest Milanese style
Open the doors of the mythical villa Milanese by the architect Osvaldo Borsani to publicize this collection already es a luxury. A wonderful dialogue between the high decoration that defines its objects and the architectural spaces of this majestic residence. A stage almost made of film, built in Varedo in 1943 by Borsani himself and where the pieces of the new collection seem to have always been there.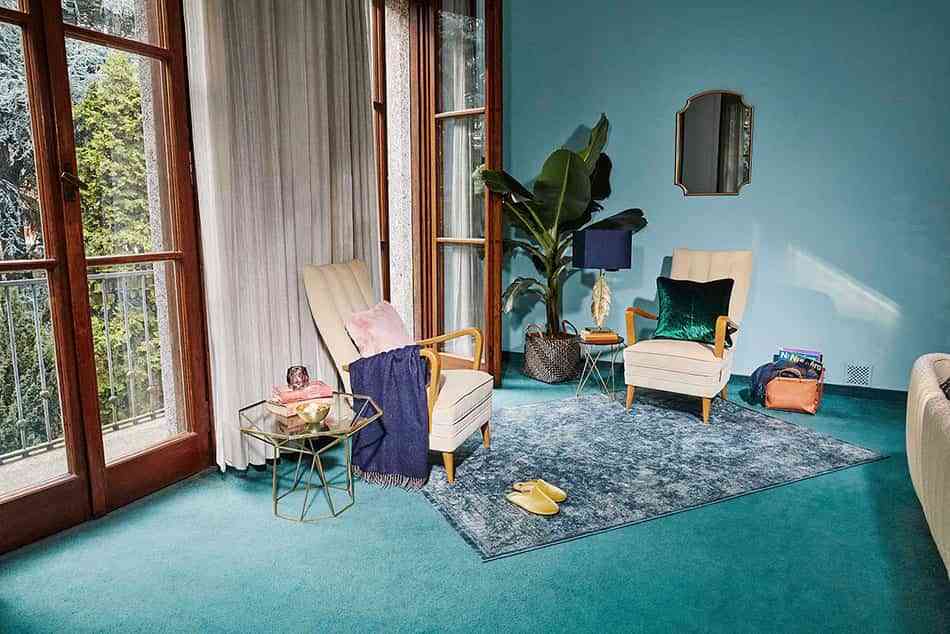 En all the proposals of the signature to decorate our spaces there is a common denominator: they exude glamor and sophistication without an outdated vision. It is a commitment to marble, cut glass, brilliants and velvet. And also for the plants and flowers as decorative ornaments of a beauty without discussion. They have been inspired by the chromatic palette, the materials and aesthetic canons with which the villa was built by its creator. They pay homage to the Milanese style that was shaped by the famous architect when decorating his residence in the 40 years. And there lies its undeniable attraction. Demonstrate the harmony in which pieces from other eras are discussed with current trends in interior design and high decoration.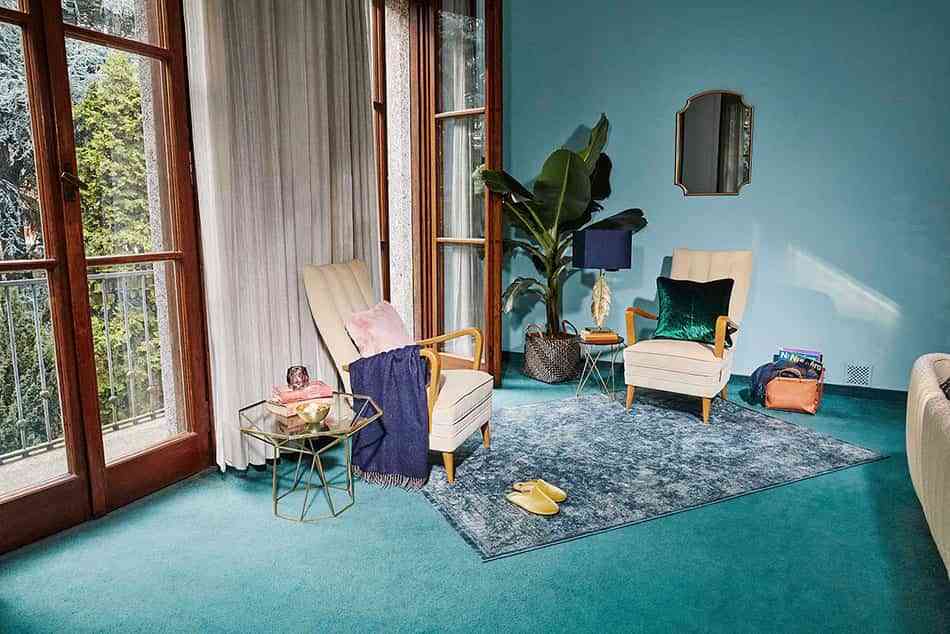 tex
The dialogue with Villa Borsani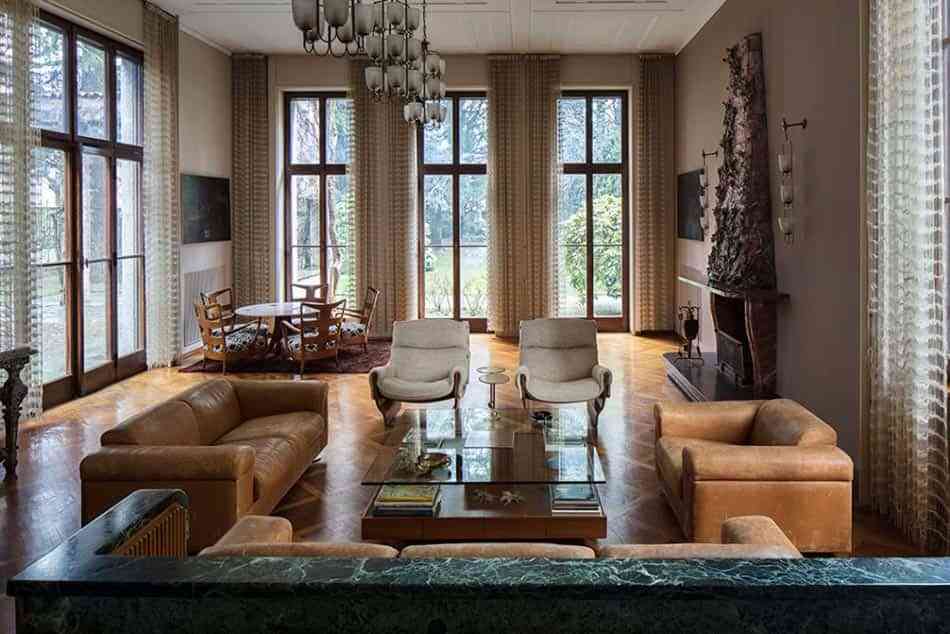 In it, all its high decoration objects are a constant dialogue with the designs that Osvaldo Borsani chose to dress his stays and environments. Many of them are iconic pieces of emblematic creators. As for example the headboard of the bedroom, by Giò Pomodoro. In the great hall, the spectacular staircase serves as a backdrop to present the interior pots in gold color of the collection. A structure walnut, Murano glass and marble, apparently the same as the Duomo in Milan. Undoubtedly his vision does not leave indifferent and marks all the personality of that interior space, tinged with subtle pinkish tones. In tune with the imposing marble floor, decorated with striking drawings.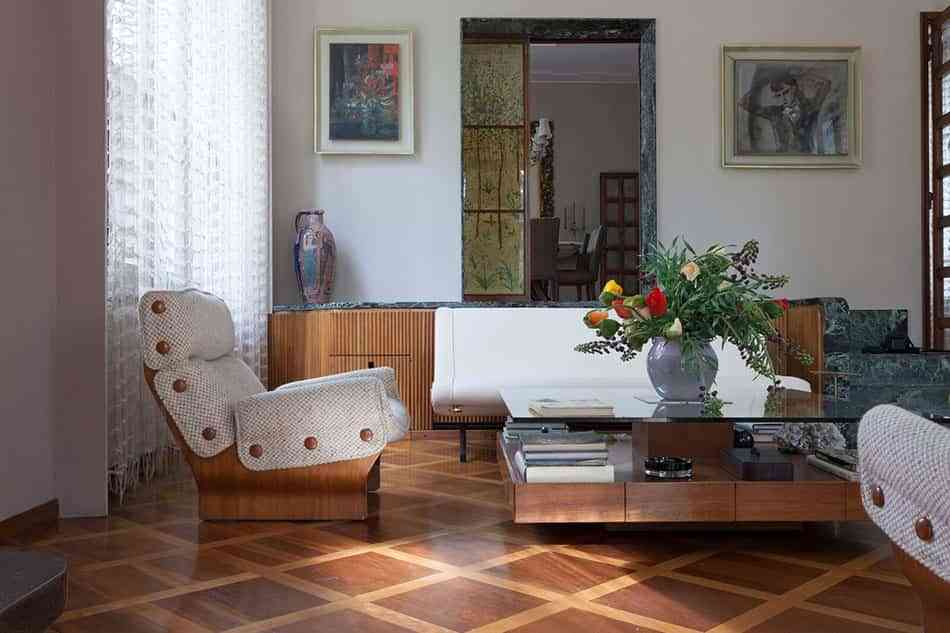 Make this collection known in the historic village of rationalist architecture has allowed to enter its interior spaces. From the most public to the most intimate. In such a suggestive visit the room plays a major role and makes it clear that marble has not lost a bit of topicality. Next to his hearth ceramic Lucio Fontana some of the furniture in the collection shine and show that his is high decoration. The effect is a success, they fit perfectly. Specifically their side tables in glass and metal, octagonal. The of iron with golden threads and those with marble top. Very useful pieces to create corners in living rooms and living areas full of elegance.
Current interiors from another era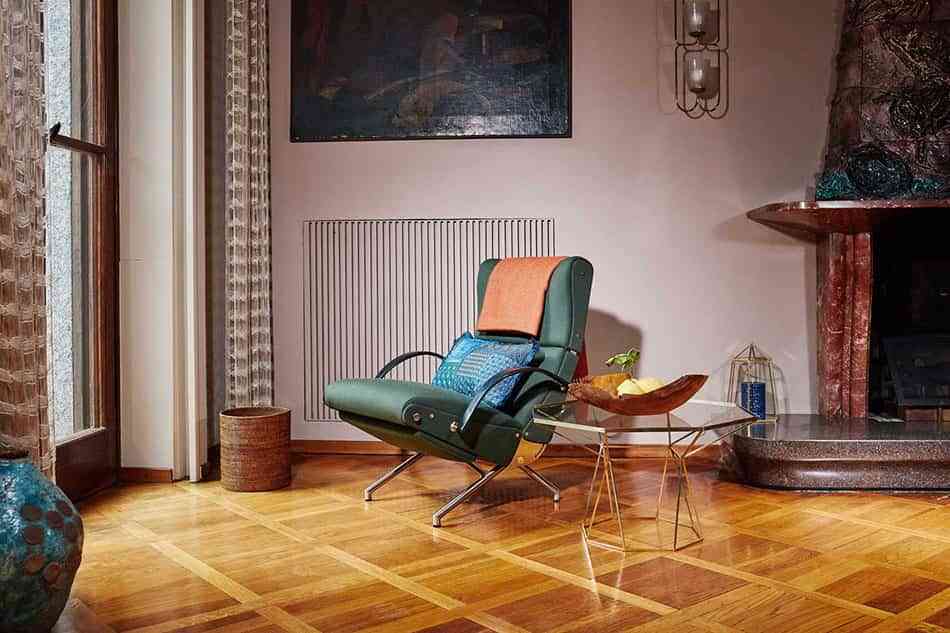 Villa Borsani It summarizes the rationalist and aestheticist vision of its creator, Osvaldo Borsani. An architect who loved since childhood and in the family workshop his passion for design and architecture. Everything in this mansion is high decoration. Outside It is a stucco and brick construction. Surrounded by a beautiful garden of 3000 square meters.
Your interiors They are distributed on two floors and open continuously to the outside. They are sublime scenarios decorated with Custom furniture and pieces that Borsani himself designed. In addition to works by artist friends, unique piecess for the history of design. It is easy to recognize them by the different environments of the villa. As the doors of the bar furniture, the game table and the mosaic of the main bathroom. While stopping to look at the mirror dressing table designed by Osvaldo. The pioneer of industrial design and Made in Italy.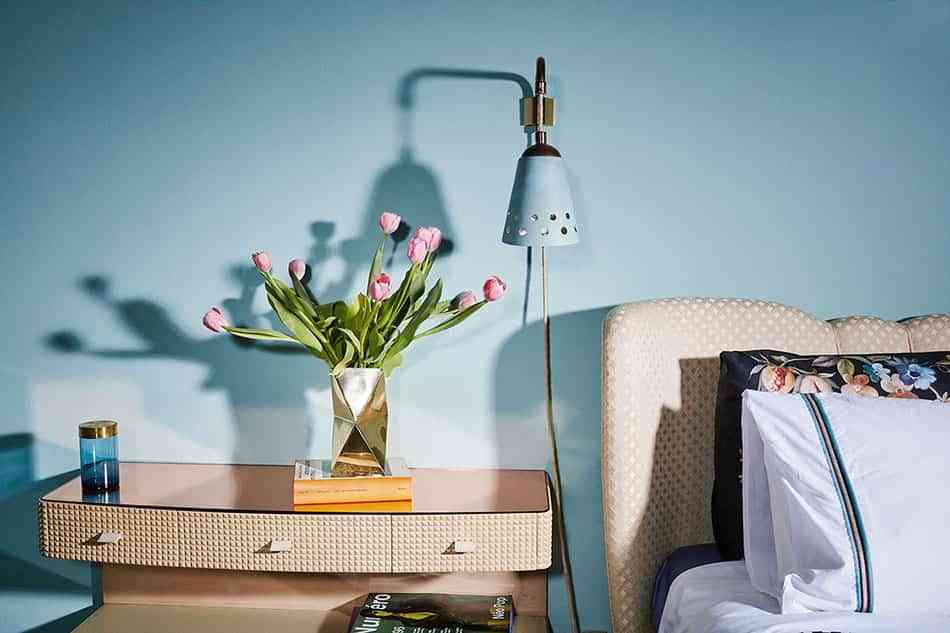 Textiles and glassware: a separate chapter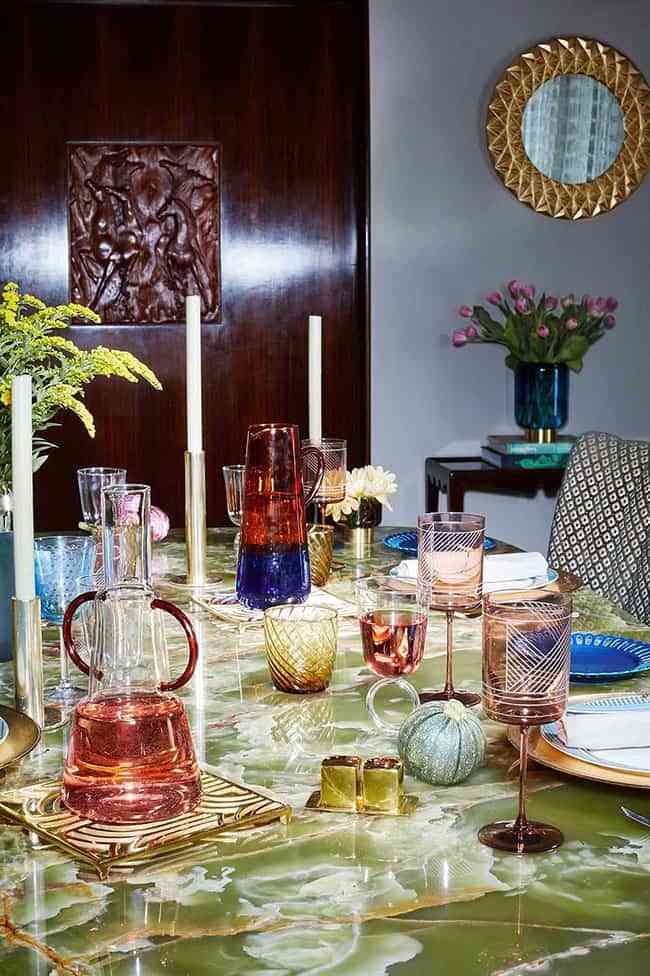 Villa Borsani has made it possible wear table clothes, crockery and glassware of this collection on a semiprecious stone: its spectacular table of dining room in onyx. There is rarely an occasion like this. Show that the high decoration of these pieces coexist perfectly with such an unusual surface. The result is a luxurious staging, replete with glitter and matte. And at the same time a chromatic parade where gold, amber, copper and cobalt blues come together. A very visual proposal where dress the table for special occasions at home is a lesson in good taste. Crystalline glass cups, borosilicate cups, steel plate in matt gold. And as a background, floral jacquard tablecloths in linen and cotton.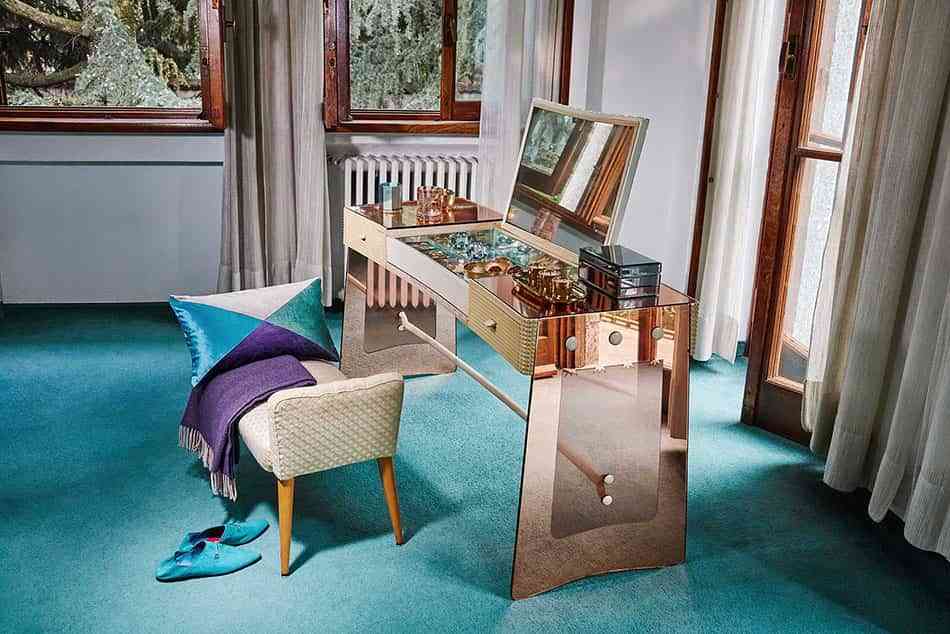 Velvet and satin monopolize throughout the protagonism of the textiles of this new collection, in which it is easy to fall in love with their covers for cushions with embroidery of salamanders and details of rhinestones. Many of us are already looking forward to incorporating it in our rooms to enjoy a high decoration in them.
You too?