At present it is very convenient to take advantage of the square meters, in small houses. Organizing and knowing how to get the most out of our stays will give us much more comfortable and functional places.
The importance of the roofs, in this house, is characterized by the height of them. This fact has led to the design of the decoration on three floors.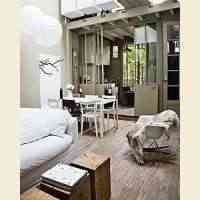 With a surface of 30 square meters, it has managed to provide good lighting. A diaphanous and innovative structure for a practical and functional house.
Among the furnishings we highlight design, sets and pieces of vintage style and other restored. This together with very decorative details and the beautiful combination of paper lamps give this house a relaxed and modern atmosphere.
The rooms have been divided with the help of panels and glass doors. It is played with the naturalness of lighting and open spaces ... in this way and under a visual appeal we find a light, fresh house whose practicality more than replaces the few square meters.
Finally we look at the small gangway and its steel cable. This allows the transfer of light, further extending the walk of our eyes.