La bed It is a component of interior decoration with a clear and very defined function: rest. However, let the first stone be thrown away that has never been left wandering in bed a cold Sunday and winter ... But not only that, there are many who, as much as the specialists tell us that it is not recommended, we love to enjoy a good book before going to sleep; We are many enjoy them when they bring us breakfast in bed ...
Taking into account the time we spend in bed, especially those days when duties and responsibilities disappear, many times we could use a multifunctional bed very well. A bed in which we can rest and sleep peacefully, in which we can have comfortable breakfast, in which reading is not synonymous with back pain, in which we can spend a nice weekend browsing the net ...
If you are one of those who, on occasion, likes to live in bed; I have a good new for you.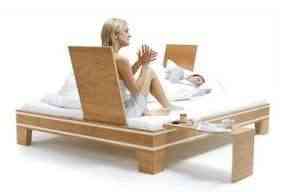 Two German designers, Ruby Piterek and Christoph Mannchen, They have created a multifunctional bed designed not only to rest properly, but to eat, watch TV, read, surf with the laptop ... And everything comfortably.
The design is what you see in the image above that accompanies this post and is a double bed. A simple design, straight lines and modern style. The bed is made of wood and is only available in the tone you see in the picture.
Can you think of a more comfortable, functional and practical bed?