Good morning friends, today I leave you with a wooden shelf made with the help of recycled belts.
The other day we talked about how to make some great hooks with belts that we no longer use .. and they were great, perfect to hang some hanger or put handkerchiefs.
The belts are a great item that will help you to make many decorative things, like the hooks of which I spoke to you, to decorate vases or to make this curious shelf.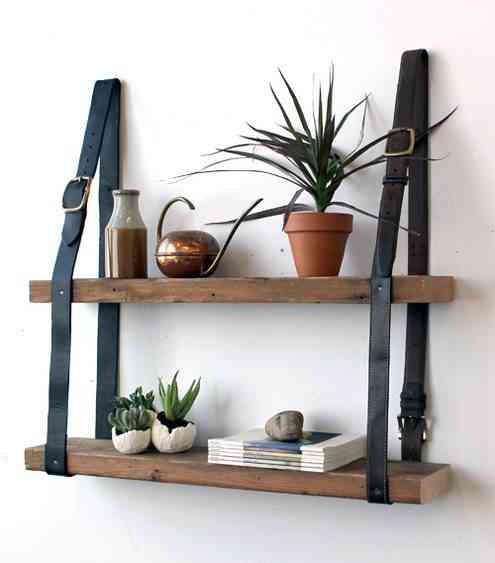 Perfect for environments of rustic or original style, today I leave this shelf that you can hang in any of your favorite places.
If you have a free wall, you may like to decorate it with a piece of furniture as curious as this one. Ideal to complete the most rustic styles!
If you have two wooden planks and two belts, you can surely do a project like that. Then add some elements like the ones we see .. a beautiful plant, magazines, books or whatever you want.
The two tables have to be of equal thickness, more or less, so that they have a certain harmony. The belts, in this case are a nice black color, which makes contrast.
The planks are varnished and the belts have been nailed to them. You can see from here.
Then they have been fixed to the wall, which depending on what is made, we will add the corresponding hooks to put the shelf.
As you can see, the belts are not the same, neither is it necessary for the two tables to be practically the same ... but if you look for a certain harmony and have no inclination problems, it is better that they have a more or less distributed weight.
Once you have it finished, look for a wall .. as we see in the image, this time it is white ... so it contrasts much more.
Then you can add other elements of wood, to give aesthetics to the composition. In this case we see beautiful carved wooden chairs, just below the shelf.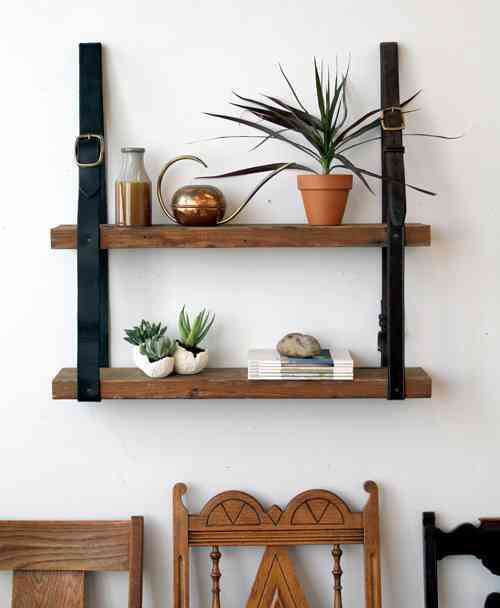 Photo: easyhomestead