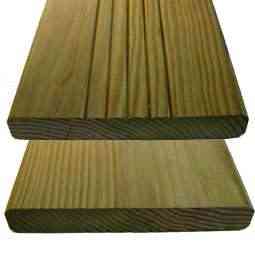 La wood It is a material that is often used very often when decorating the interiors of homes.
Each type of wood comes from a type of tree, this is what differentiates them from each other and also what gives them certain qualities.
Not all woods have the same durability, this depends on the type of wood and also the products used when treating it: tannins, resins, oils, etc.
Since it is a natural material, it is possible to run certain risks and put its integrity at risk. Some of the factors that can put the integrity of wood at risk are: water, sun, insects, humidity, fungi, etc.
Obviously, some types of wood are more susceptible than others. For example, some of the most resistant woods are the teak, the guayacán or the Iroco. While mahogany, the brown or the oak They tend to be a little more delicate and susceptible to the phenomena mentioned.
In exteriors, gardens, terraces, etc., you should avoid placing pine, fir or oak American woods, since this type of wood does not resist the weather.
Caring for, maintaining and protecting wood:
In the market there is a lot of special products to protect the wood. When applying them, it is essential to follow the recommended form of application and the necessary doses to the letter.
You can find the products divided into groups depending on the protection they offer: insecticides, fungicides (protect from fungi), waterproof (protect from moisture) and pigmented (the product contains some pigments that act as protectors against the sun).
In general, this type of product is applied with a brush or brush. In any case, consult the instructions and apply them in the recommended way.