There is no more coveted good in a house than to enjoy space in it. Our needs change, the passage of time leads us to store more each day, and families tend to grow. Far from specifying less, the activities that we want to do at home are becoming more, and make no mistake, space is what it is, so touches sharpen the wit and give a twist to our interior design so as not to do without anything. Among all of them, you may need to create a workspace in the bedroom, so in order to cover precisely that need, we start today's post. Take good note that we started!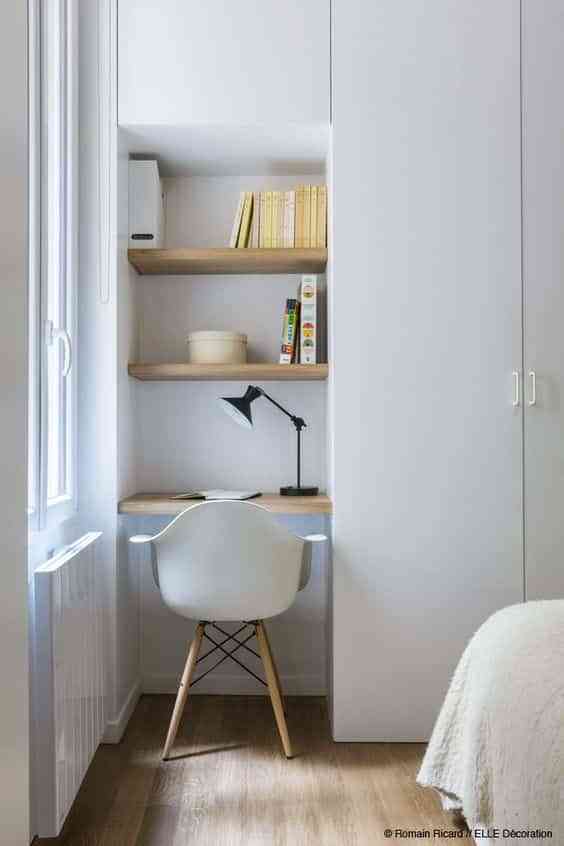 Improvised shelves
Under a window, taking advantage of a corner that is not known trade or benefit, betting on the shelves that have little depth in order to even accommodate them in areas of passage... And all this betting on the design and shape that you create best adapts to your style, movements and way of life.
Spaces that can be crucial
Believe it or not, 70 / 80 centimeters wide can become more than enough space to create a workspace in the bedroom in the most beautiful, integrated and functional way you can imagine. Concentrate on keeping the place clean, tidy and in which everything has its studied location so that it does not end chaos reigning, and you will see how easy and comfortable it can be to enjoy a new corner in your bedroom.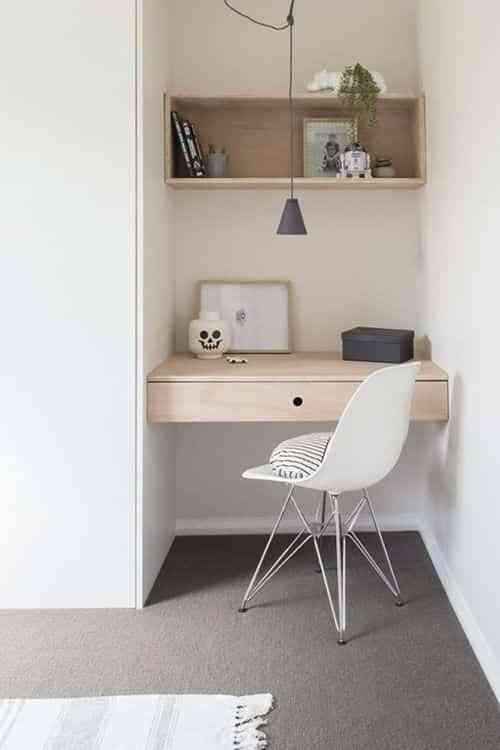 The shelves can do a lot for you
Encompassing the width, height and depth that best suits you, having shelves to create a work space in the bedroom can come to offer you everything when you ask the place of the easiest, most economical and personalized forms. And if you want to delimit the space dedicated to it even if it is visually, remove it with a rug that gives it a certain intimacy.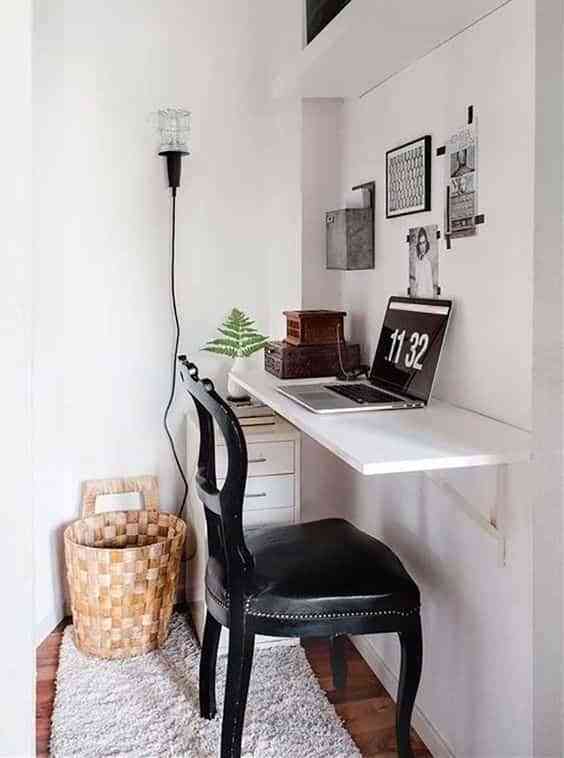 Bet on light colors to avoid saturating the environment
At this point I do not need to tell you that among the decoration tips to get more spaciousness in the spaces, the use of light colors is found. They will help you to increase the sensation of spatial amplitude, a more open and airy image and less visual contamination in the environment. That as long as this image follows the general tone that until now had the bedroom is clear.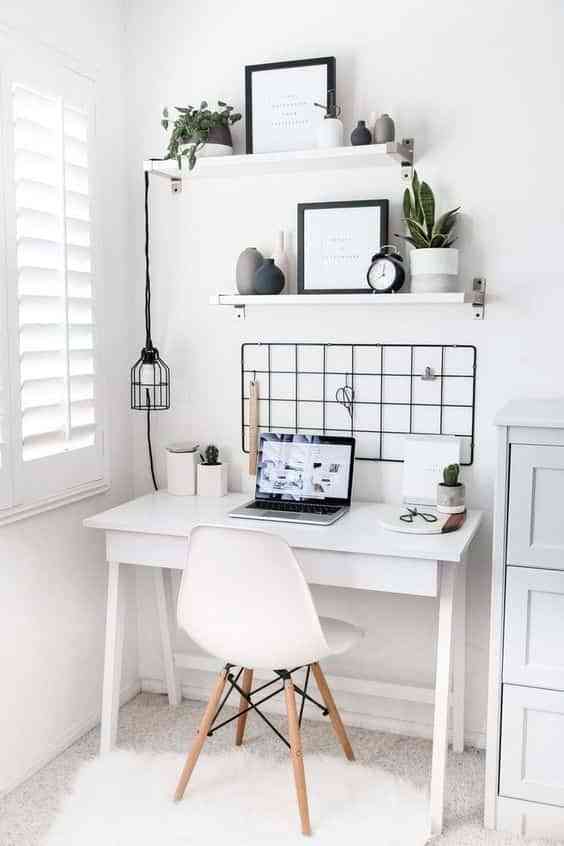 Modify your modular storage to accommodate
There are storage modules that you can customize yourself according to the needs of the moment. So create your workspace in the bedroom giving continuity to one of them It can be a great idea as original as integrated into your most intimate space.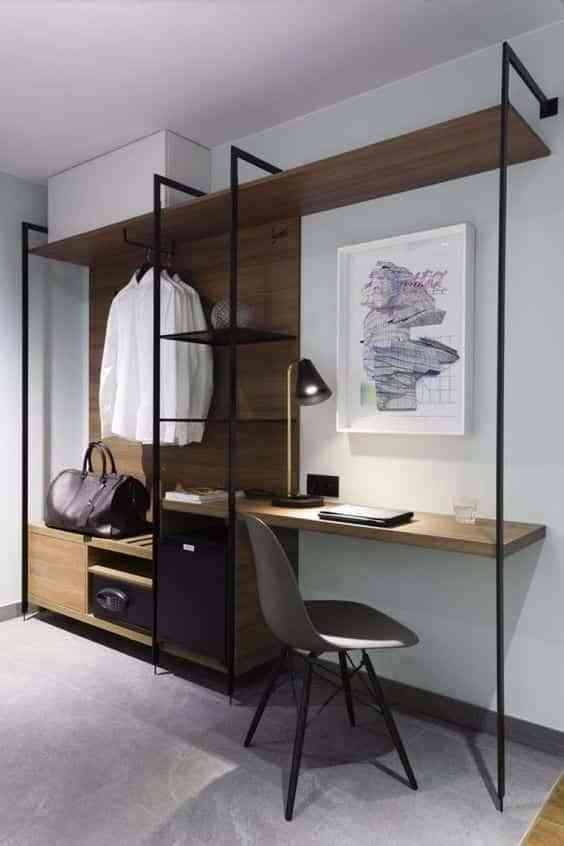 Take advantage to save false squads
Do you have a completely untidy corner? So take advantage of the tessitura to disguise it while giving room for a practical work space in the bedroom can be a good idea. A few custom designed shelves to achieve it, will be all you need to get a more refined and linear image of the entire stay.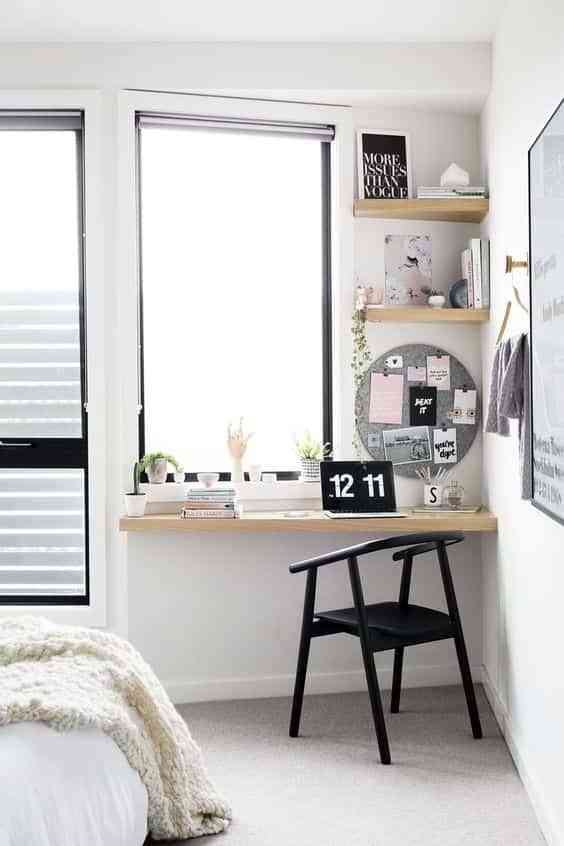 Create a workspace at home: Customize the distances at your whim
The storage systems created through suspended rails, can help you create a space reduced in width and you can get a lot of height by customizing it completely ati. That if, being completely open storage, take care of the order in it. Enhance the disorder in a room dedicated to the most intimate and personal rest, it will not be precisely the most ideal to enjoy the moments of peace in it.
Take advantage of the height
To take the best possible match between the floors of your bedroom will always be a great idea. Every time more often, we find in the market a wide variety of furniture capable of satisfying these spatial needs of the most beautiful, integrated and delicate forms. And without having to make a lot of holes in the wall if that's what you're so afraid of!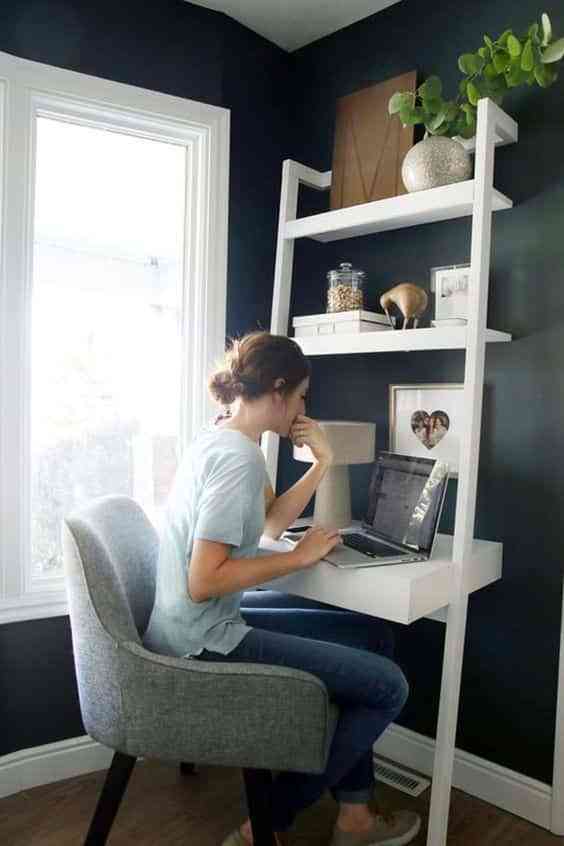 Less can be more
Do not mess with storage and several hanging shelves if you really are not going to need them. Study your needs well and act according to them. In a room like the bedroom, saturating too much will not do you any visual favor, so it only accommodates what you need!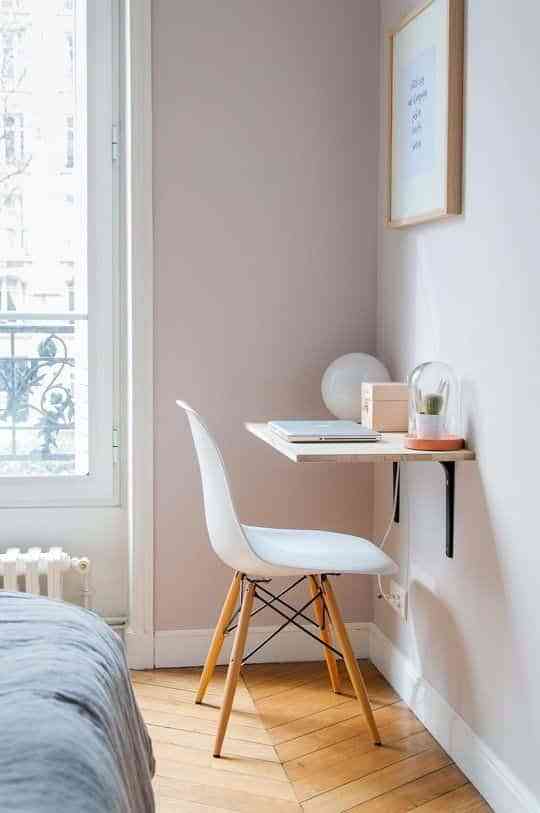 As you can see, creating a workspace in the bedroom can be simpler than it may seem in principle. Think well about what would be the most successful space, bet on incorporating what is just and necessary and start to enjoy from that space that you needed so much and you did not know how to materialize!