Today we are going with a very interesting craft! If you love the candlesticks today we suggest this activity to make some great candle holders using plaster and a plastic bottle!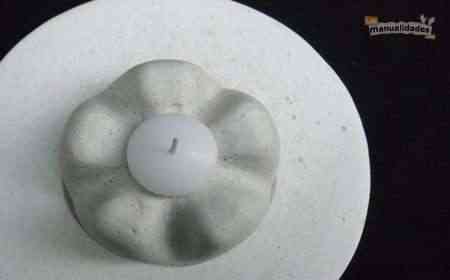 This simple way of making these articles gives us the possibility of providing curious and original details to our decor. If you want to learn how to do it, materials what we are going to use, are the following:
Plaster

Molds - a deep dish and a plastic bottle

A dull knife

A spoon

A thick nail

Thick cloth

Fine sandpaper

Kitchen oil

Candles tealita
To start, first we anoint the molds with a little cooking oil, this will allow us to demold the plaster easily.
Now perform the plaster by mixing the powder with a little water. To make it look good, fill a container with water and see adding the plaster carefully while moving the mixture. Try to make a homogeneous mixture.
Once this is done, fill the molds with the plaster - both the bottle and the plate. Let it dry well, for this it is best to rest 24h, that the plaster is not wet.
Remember to mark the central area of ​​the plate, with the size of the bottle. For this we use the knife or a nail, so it will be well marked.
Once the circle is indicated, we proceed to get rid of the central zone. Remove the plaster with the help of a spoon. Then wet your fingers and go over the surface of the edges of the circle so that they are smooth.
After we let dry, very well, both plaster molds - the plate and the bottle - Wait what is necessary so that the plaster is not wet. Once they have dried, cut the bottle and unmold both pieces.
Then, with a coarse-grained sandpaper, sand both pieces. Then with another sandpaper, of fine grain, you can repeat them well.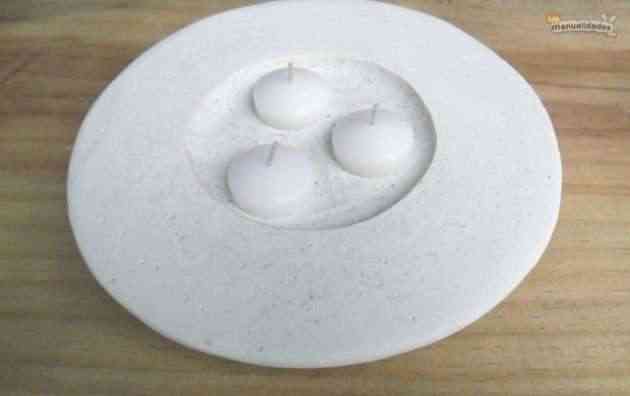 In this way we have a base for the candelabra in the form of bottle cap. But they can also work separately, in this way the dish becomes a candelabra capable of holding some candles, giving a very original touch to our decoration.
On the other hand if you want to use them together, as a set, it will be as we see in the photo. We place the candle in the smallest piece.
In this way we have easily made some beautiful, curious and original chandeliers for any of our stays. Finally remember that we can paint the color we want or decorate with potpourri or stones, seeds or whatever we like.
Via: lasmanualidades.com