Baroque style emerged in Italy about the 1600 year, and bases its concepts on its artistic current that boomed in different fields such as literature, painting, architecture, music, opera, theater, among others, that had a lot success in his time. The Baroque aesthetic was also integrated mainly in decoration, and there are still many who follow their stylish concepts in their home.
The baroque is characterized mainly by the abundance of curves, and inside the decoration we find very elegant and sophisticated elements. This style has always stood out for the abundance of decorative elements, although nowadays the atmospheres are no longer overloaded and there is usually a greater visual balance.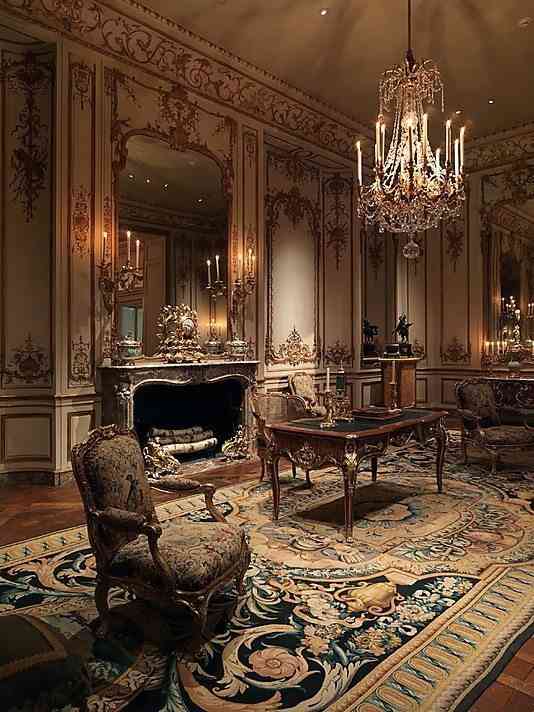 Still do not know how to decorate the Baroque style? We give you some tips
The right colors
In the baroque style it is common to use light and soft colors as beige, white, and small touches of gold and pearl gray, which give a touch of warmth to the environments. You can also include dark tones, such as red, blue, purple, green. You will also be right if you add small touches of black color, the color of elegance par excellence, but you have to take care not to overload, as it can make the rooms more subdued and dark.
Use elegant upholstery
Commonly, in the baroque decoration the furniture is usually upholstered by heavy materials and that give elegance, as the velvet, taffeta or silk, like the curtains, which should also be large and heavy. You can also add large rugs to the floor so that they give a greater sense of warmth and make the more welcoming environments.
Use sinuous furniture
A very important factor to take into account in Baroque decoration style is the mobiliario that integrate in the environments, which have to be very sinuous, with decorative ornamental elements and with abundance of details. We can also highlight the chairs, armchairs and sofas, which have to be low, with legs with curved details.
Includes decorative elements
The baroque style usually includes many decorative elements as mirrors and paintings of large frames, objects made of porcelain, vases and vases with very elaborate designs. Also popular are chandeliers, which in addition to providing light, become a very important decorative element.
Walls of wallpaper
The walls are usually covered in wallpapers with patterns floral, geometric or arabesque, although you can paint it if you prefer the colors that are used in the rest of the decoration.
What do you think of this style of decoration? Would you encourage him to integrate it in some space of your house?