It is not about transforming your house into a zoological garden, but it is undeniable that the animal element can contribute as a strong decoration that values ​​the elements that make up your room.
Throughout the ages the use of animal forms in art is quite recurrent.
In all artistic forms the representation of animals is already a constant.
From cave paintings to utensils built and decorated with representations of animals.
It would seem that there is a search in the representation of animals, that transcends beyond the aesthetic value, even the inclusion of some animals in the decorative arts, correspond to a particular religious symbolism that seeks in art a way to transmit a message
Although the representation of animals is a constant within the world of the arts, it is good to emphasize that we can divide their representation into two, natural animals and the most representative fabulous figures of mythology.
Animal Look
Among the natural animals, we find, for example, the eagle, which is present in imperial-style furnishings, and its use is mainly due to the harmony and vision of beauty it transmits.
Already the representation of animals of fabulous or monstrous character refers more to a type of art oriented to subliminal messages and mythological character.
Many of these animals are part of the Greco-Roman culture and were interpreted countless times throughout history in the decorative arts.
What is unquestionable is that the use of zoomorphic elements is a real temptation that decorators can not ignore.
Futuristic designs
Today at the beginning of the millennium, designers such as Jean Nouvel or Noe Duchafour Lawrence could not be oblivious to this trend.
The Milana chair, designed by Jean Nouvel and edited by Saway and Moroni in 1993, speaks clearly of the adaptation of animal elements.
Designed in a fabric that imitates reptilian skin, the chair is framed in a futuristic context that turns it into a true avant-garde work of art.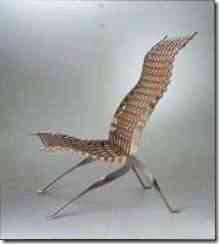 Another exemplary case is the line of furniture designed by Noé Duchaufour-Lawrance for the Ceccoti brand, having as its objective the setting of natural elements which merge with the sophistication of the design.
On the other hand, the line of luminaires designed by the architecture atelier Herzog and de Meuron Artemide, is a perfect example of futuristic design.
Its form refers to an "alien" or any other mutant animal, directly from a science fiction book.